The "Island City", Wilton Manors, Florida - Eric Miller and Associates know Wilton Manors and are here to be you Wilton Manors Realtor.
HOMES FOR SALE IN WILTON MANORS
CONDOMINIUMS / TOWNHOMES FOR SALE IN WILTON MANORS
Wilton Manors is approximately two square miles in area and is located in Broward County, Florida, just north of downtown Fort Lauderdale. Wilton Manors is often referred to as the "Island City" because its boundaries primarily follow the North and South Forks of the Middle River. Ideally located within minutes of the beach and downtown Fort Lauderdale, Wilton Manors is quickly becoming the "place to be" in South Florida, and Wilton Manors Real Estate appears to be starting to recover in this down market.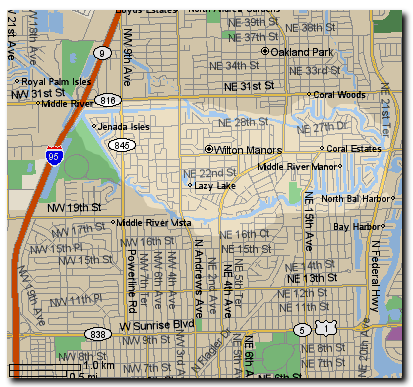 The City of Wilton Manors is nearly 100% built-out and feels much like a small urban village, with a great downtown. As part of its growth management strategy and in anticipation of redevelopment, Wilton Drive, the City's signature thoroughfare, is home to the Arts and Entertainment District. Within the District, mixed-use development provides for a pedestrian-oriented environment where residents and visitors can shop, dine, and experience the best of what Wilton Manors has to offer.

The City has acquired a great deal of park and open space, much of which is located on Florida's Middle River. The riverfront parks provide a host of leisure and recreational opportunities including a canoe trail, mangrove preserve, and two naturewalks. In addition, two new community centers have been constructed at the City's Island City Park Preserve and Hagen Park. The Hagen Park Community Center features accommodations for hosting small cultural and performing art events. Serving to enhance Wilton Manors' exceptional quality of life, the Wilton Manors Public Library has recently undergone a major expansion providing for a larger collection and extensive electronic resources.

Diversity is the strength of Wilton Manors, and it has been referred to as the "Gayest City in America". Children from many different ethnic backgrounds attend Wilton Manors Elementary School. The City Commission includes openly gay elected officials and has had a gay mayor.

Thinking about Wilton Manors Real Estate call Eric Miller and Associates today.